What is The Fargo Project?
The Fargo Project provides opportunities for local government to respond and work with the community and identify needs through a participatory process. With water as the vehicle for connecting people to the land, the approach intentionally activates our collective creative agency. Artists, neighbors, engineers, landscape architects, and ecologists, work together to develop a solution to transform a neighborhood storm water basin that fits their unique needs as a community.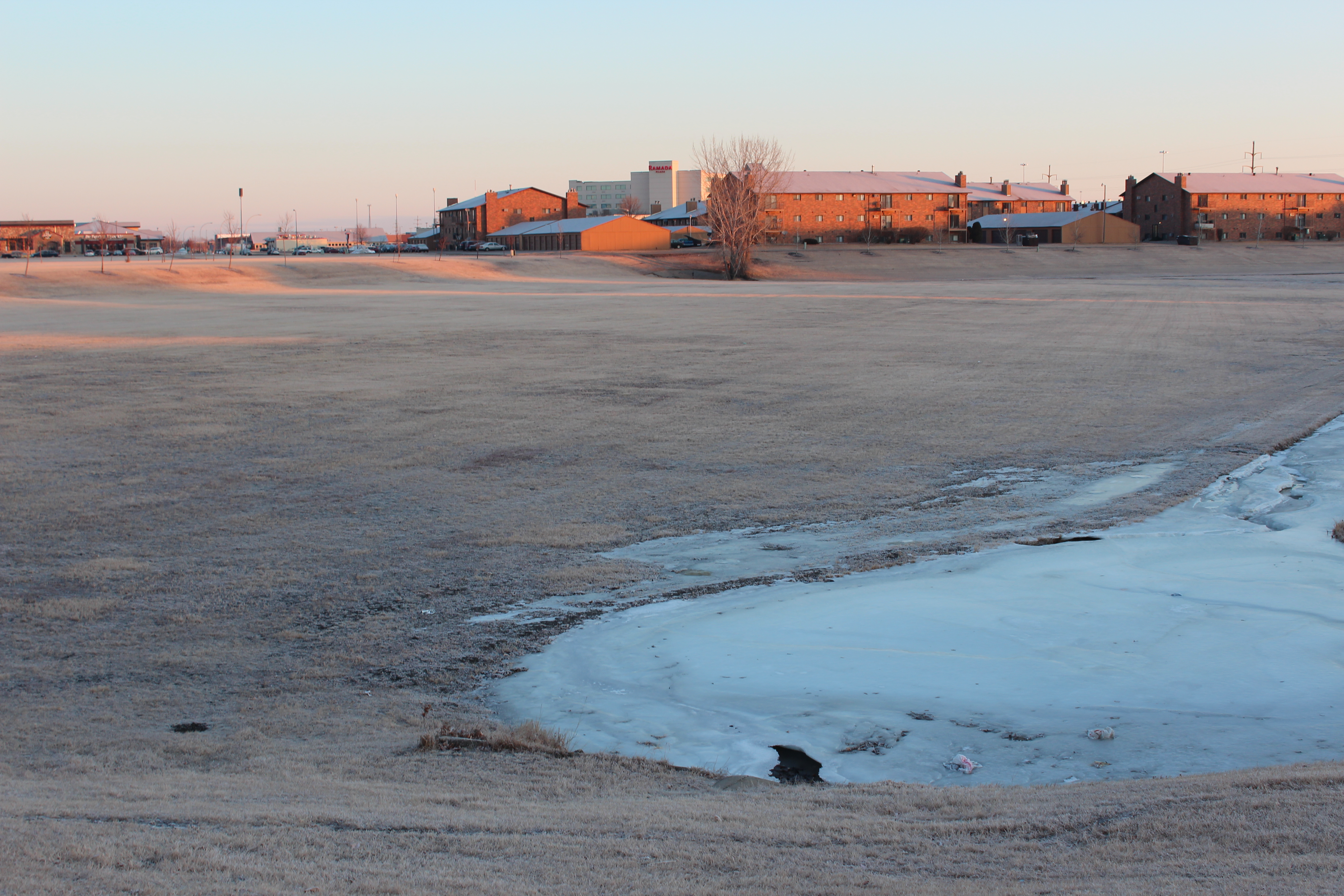 The Basin
Throughout the City of Fargo, large basins collect storm water to protect traffic and property during rainfall. Often, the basins are dry and seem to have purpose only during rainfall. They are uninviting empty lots with little plant and wildlife diversity.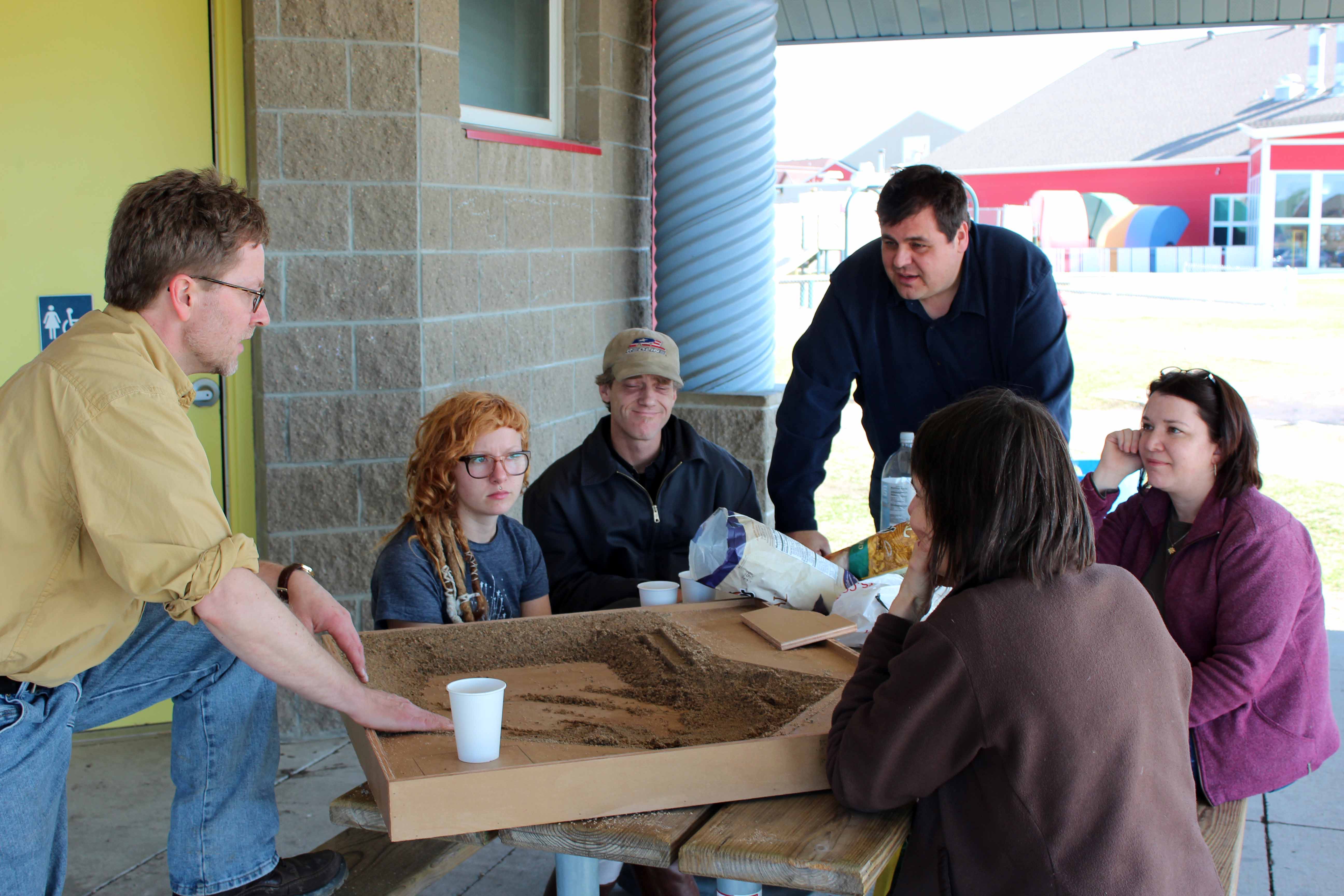 The Project
Thanks to the community-process developed by renowned ecological artist Jackie Brookner, The Fargo Project hosted community design charrettes or intensive collaboration sessions with a diverse group of children, adults, artists, designers, neighbors, immigrants, and ecologists.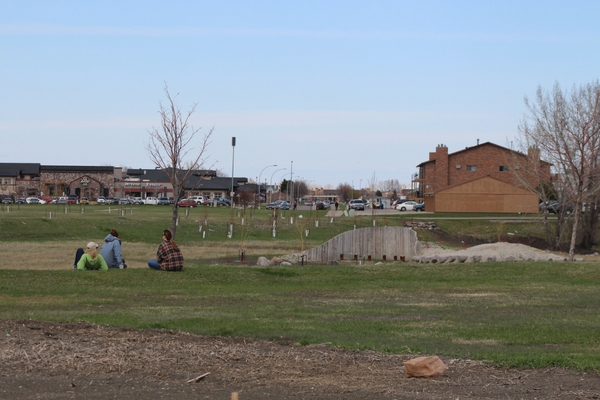 The Park
Out of the imagination of those participants, the barren site is transformed: a welcoming commons to reintroduce plant, soil and wildlife, sculptural landscape, wandering paths with the intent to reintroduce each other to our human and cultural dependence on natural ecology.
World Garden Commons
The World Garden Commons at Rabanus Park is the first installation of The Fargo Project, a collaboration between artists and residents to transform a 18-acre storm water basin into an ecological community commons. While the basin continues to hold storm water during summer rains, added benefits of the Commons include improvements in water quality, pathways to connect the neighborhood, and beauty to benefit community.
Read more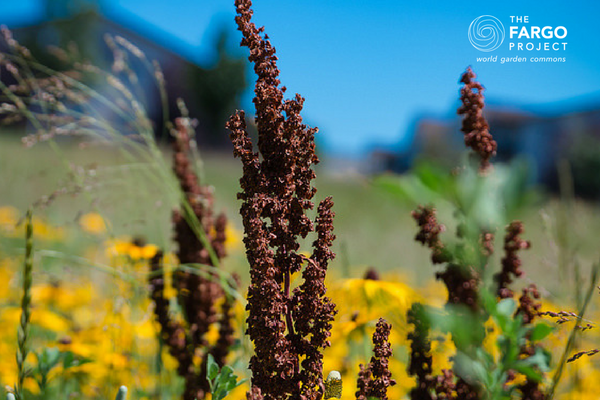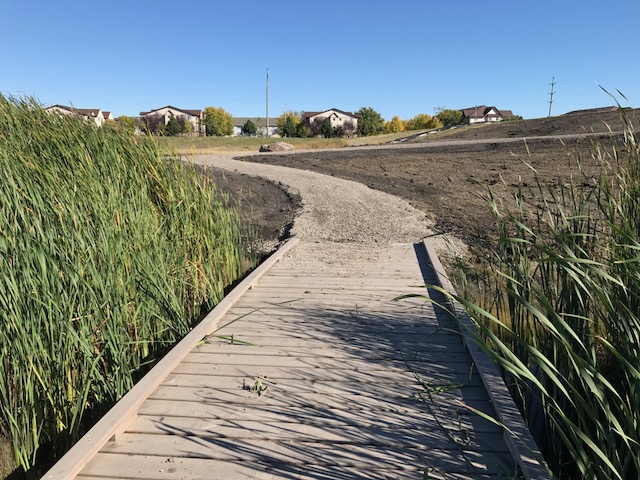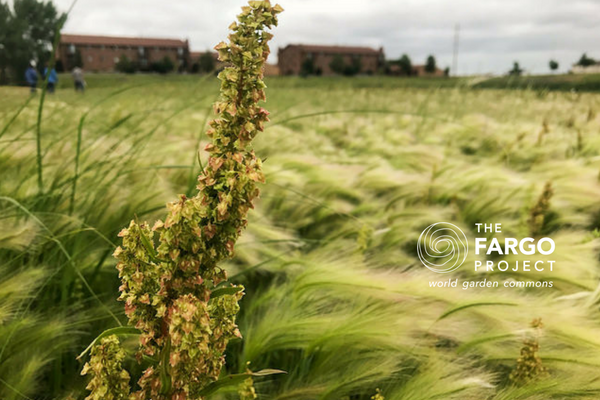 Our Vision
The World Gardens Commons at Rabanus Park is responsive to the neighborhood's social structure, cultural history, natural history, and its relationship to the Red River watershed. The site is the first installation of The Fargo Project and made possible through partnerships with ecological artist Jackie Brookner (1945-2015) and funding from ArtPlace America, City of Fargo, Fargo Park District, a National Endowment for the Arts (NEA) Our Town grant, and the North Dakota Outdoor Heritage Fund.
The Fargo Project Approach
Link community members, local government, and nonprofits through ecologically and socially responsive place-making.
World Garden Commons, Rabanus Park
World Garden Commons is the first installation of the Fargo Project to demonstrate how holistic ecological restoration, socially engaged ecological art, and active community process can synergize to transform functioning stormwater infrastructure into vibrant multifunctional green spaces for our urban community.
World Garden Commons Objectives
Engage area residents in the ongoing creation of culturally significant public spaces

Provide natural regional landscapes experiences

Improve storm water quality

Explore ecologically-sound storm water management practices in this region

Restore native prairie and wet meadows to enhance local biodiversity
Our Partners
The Fargo Project's goal is to create a repeatable process that empowers the community to engage in defining site requirements that reflect their needs, explore options to solve additional ecological restoration projects and to take active part in the course of action. Partners comprise of artists and artists groups, higher education, community groups of Native Americans, immigrants and refugees, ecological and science societies, volunteers, contractors and funding partners.
Our growing list of partners Include:
AE2S African Initiative for Progress ArtPlace America Audubon Dakota Buzz Lab Cass County Soil Conservation District CHARISM City of Fargo Congolese Community leadership Earth Partnership Ecce art + yoga Fargo Housing Authority Fargo Native American Commission Fargo Park District Fargo Public Schools FM Area Foundation FM Visual Artists Freedom Resource Center for Independent Living Friends of Watershed & Soil Growing Together
Immigration Development Center Impact Foundation Islamic Society of Fargo Moorhead – 28th Street Mosque Kresge Foundation Kurdish Community of America (KCA) Land Elements Longspur Prairie Foundation Lowry Engineering Lutheran Social Services MSUM School of Media Arts & Design National Endowment for the Arts Native American Commission NDSU, AES Plant Science NDSU, AES School of Natural Resource Sciences NDSU, Animal and Range Sciences
NDSU, Architecture & Landscape Architecture NDSU, Center for Science and Mathematics NDSU, English Department
NDSU, Extension NDSU, Soils NDSU, Visual Arts
New American Consortium for Wellness and Empowerment North Dakota Council on the Arts Plains Art Museum Prairie Restoration Reach Partners Red River Zoo River Keepers Southeastern ND Community Action Agency (SENDCAA) Head Start Spirit Room State of North Dakota Outdoor Heritage Fund The Arts Partnership Welcoming Week West Fargo Public Schools Westside Elementary School 5th Graders YMCA